Why use our apps to grow your business?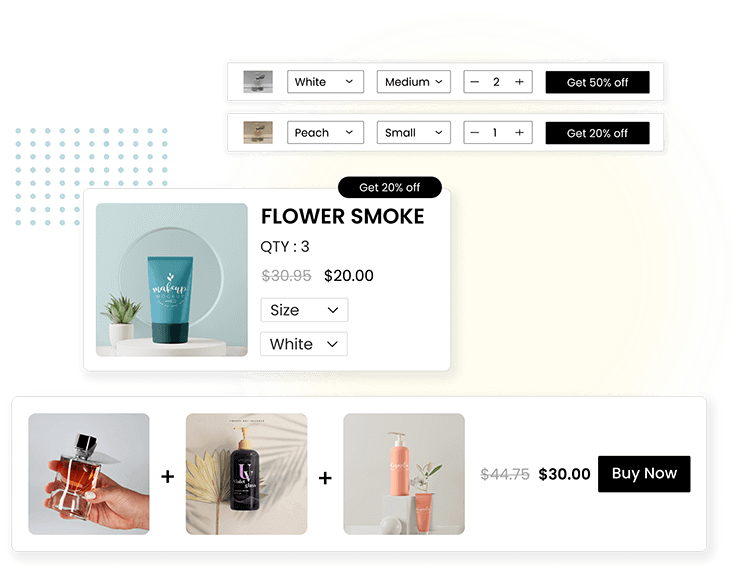 Wizio Bundle: Quantity Breaks
Many settings option to make the bundles completely unique and attractive for your customers.
Bundle can be placed anywhere in product page. No coding required. Just one click to get bundle.
GET STARTED
Learn More

Post Purchase Upsell
Sell with a one-click post purchase upsell app which increases average order value (AOV).
Used post purchase upsell app? Because they provide so many benefits such as free to start, create unlimited offers, upsell/cross-sell offer editor, etc..
GET STARTED
Learn More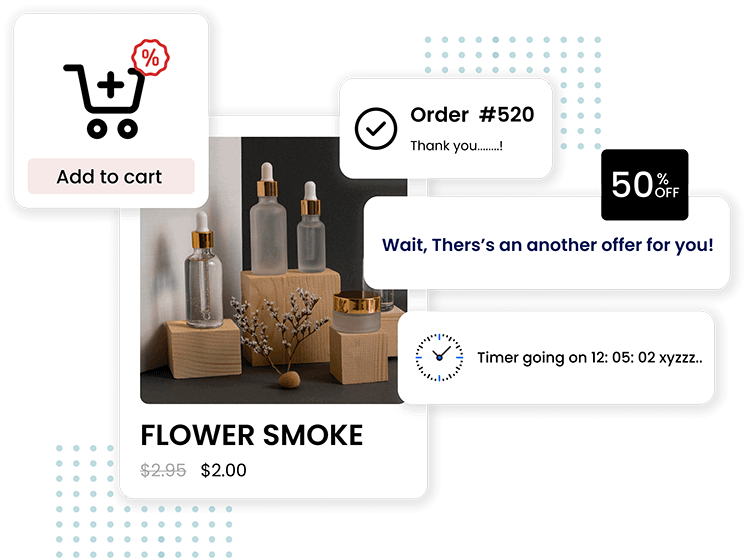 Connect Wizio to your eCommerce platform for better enhancement
Fuel up your sales with native one-click post-purchase upsell, known as after-sell offers, which increases average order value (AOV).
Post-purchase One Click Upsell
Upsell everything, add one-click post-purchase upsell on thank you page to boost your store revenue and increase your average order value(AOV). Easy to set up in minutes with attractive responsive on all devices.
Start Upsell to Increase AOV
Upsell is the best practice you can follow to increase sales for your eCommerce business. This strategy is powerful in adding value for your business and customers and boosting your average order value(AOV).
Boost Sales And Generate Revenue
Through the Wizio app, create an offer with the number of eligibility rules where you can create offers as promotions after checkout. Upsell will undoubtedly appear to recommend even more products they could wish to include before checking out.
Product Bundle To Increase Order Value
Build unlimited product bundles & combos with great offers and increase order value. You can freely choose your bundle display Wizio offers attractive widget templates for bundle creation. Also, offer discounts to boost sales from any existing customer.
Reporting & Analytics
You can track the success of your offers and discounts through the analytics dashboard. Also, get an idea of how much the app generates the total revenue, total offers view & accepted, conversion rate, and how each product performs.
Attractive Responsive on All Devices
Online Shoppers love to shop online on their mobile phones and tablets. So we have developed this app with beautiful UI and UX to boost sales on desktop and mobile phones and get the best customer shopping experience.
This app is amazing. The support team helps to have the perfect design match for your store. I will def recommand it
Quencisell
Canada
superb app. super fast support from the backend. must use application to boost prepaid sales with the offer you want to give.
www.zewar.co
A very good experience! The customer service has been able to support me well with any questions I have!
Improveex
Netherlands
I used this app for my store and worked out just fine. Support team helped me out a lot and the best part is it's free! Keep up the good work
Myaraa
India
Good customer support, very comprehensive and easy to use. Asthetic design on website. Overall a great app.
ReHome
Thailand
I am using this app since a month & I must say it is very useful, wil definitely recommend it, support team is the best
SR Store
I used this app to add bundles to my store. The support is very helpful. They helped me set this up on my store and tested it to see if everything is working fine.
Foldable
Australia
This proved to be the best solution for us to bundle items and increase AOV of our store. The team responded quickly to all our queries.
AINA
India
we could say that it's quite effective for making post purchase offer, and support team is very responsive and helpful.
Wine Not HKG
Hong Kong SAR
We have been using Wizio now for some time and it has worked really well for our store. Most importantly, the support team has been excellent.
Artisera
India