WHY OVER 150+ STORES USE BUNDLE QUANTITY BREAKS
Increase sales revenue of your Shopify store with our powerful bundle Shopify app.
We earn our customer's trust. Quantity breaks is rated 5 out of 5 stars so far among hundreds of merchants using Shopify. 40% higher conversions through upsell of frequently bought together, product bundle, volume discount, quantity breaks, BOGO & cross-sell.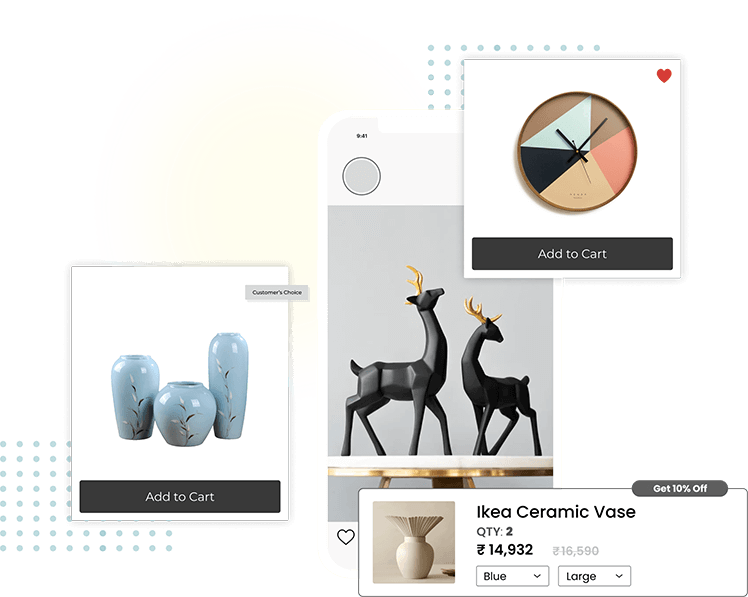 PRODUCT BUNDLE
Show product bundle discounts and attract customers easily
Creates product bundles, especially for those customers who love the discount.
Increase average order value by selling more without increasing transaction costs.
GET STARTED
QUANTITY BREAKS
Get more quantity with more discount
Increase average order value and reward the customers who buy more.
When a customer adds that amount of the product to the cart, get them to buy more by instantly adding quantity discounts to your store.
GET STARTED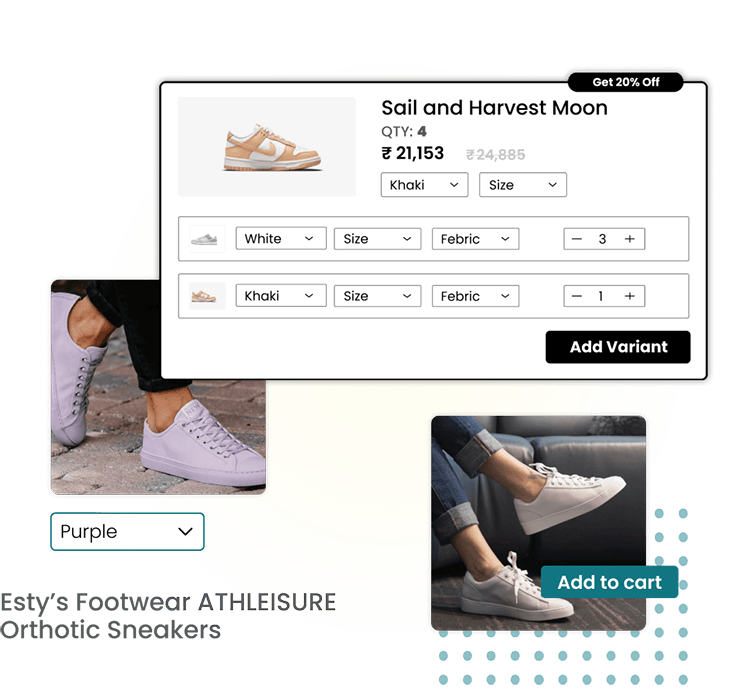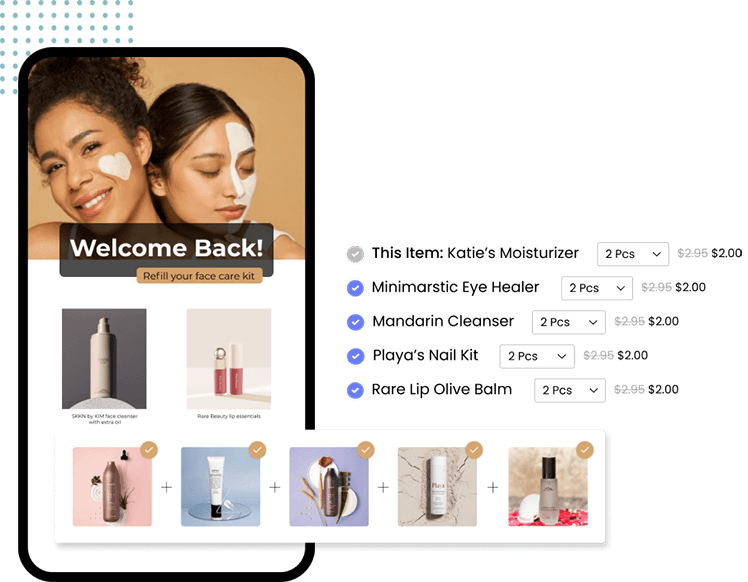 FREQUENTLY BOUGHT TOGETHER
Give multiple special offers on one product
Frequently Bought Together will suggest other related products on the product page.
Through Frequently Bought Together, the customers can easily add a list of items to their shopping cart.
GET STARTED
Pricing
Pricing is based on your Shopify plan
Bundles, Quantity Breaks & Drawer. Increase store revenue with non resistible bundles & cart drawer.
Quantity Breaks, BOGO, Volume Discounts, Cart Drawer, Frequently bought together

Create UNLIMITED bundles - NO LIMITS.

One click upsell, cross sell, BXGY offers.

Display discounted prices on cart page.

Themes - Works well with all themes. Supports Online Store 2.0 themes.
FEATURES FOR YOU
Empower Your Business Using Wizio Bundle: Quantity Breaks App
Want to get more customers without investing much effort? Use our app to grow your business. This app's features will help you grow your store on a high level.
Unlimited Use
This Shopify app lets you create unlimited product bundles in a short time with a few mouse clicks.
Multilingual
It's content friendly. so you can add text and labels on your own in your preferred language.
Variety of Bundle
Create various bundles that allow shoppers to choose various products from the set.
Lightning Fast
Load bundle widgets faster do not affect the customer's average purchase flow.
Flexible Theme Support
Display discounted prices on the cart page. Works with any themes and also supports online store 2.0 themes.
Easy Setup
Empower your business using the Wizio bundle: quantity breaks app to set up customer support and easy setup.
Client Reviews
Curious what Wizio experience is like? Hear it directly from our users.
Read All Reviews
This app is amazing. The support team helps to have the perfect design match for your store. I will def recommand it
Quencisell
Canada
At first, I had some trouble with the app. The support team got back to me quickly. Even though my theme is off-Shopify, this app worked really well with it.
Crystalz-Gem
Singapore
A very good experience! The customer service has been able to support me well with any questions I have!
Improveex
Netherlands
I used this app for my store and worked out just fine. Support team helped me out a lot and the best part is it's free! Keep up the good work
Myaraa
India
Good customer support, very comprehensive and easy to use. Asthetic design on website. Overall a great app.
ReHome
Thailand
This app is really great and easy to use. customer support is awesome and helpful. Definitely two thumbs up for this app!
Zeebbles™
United States
I used this app to add bundles to my store. The support is very helpful. They helped me set this up on my store and tested it to see if everything is working fine.
Foldable
Australia
This proved to be the best solution for us to bundle items and increase AOV of our store. The team responded quickly to all our queries.
AINA
India
These guys are absolutely awesome. I had issue with my theme and their developers sorted out that issue as well even though the issue was not caused by them.
DIYOSWORLD
United Kingdom
We have been using Wizio now for some time and it has worked really well for our store. Most importantly, the support team has been excellent.
Artisera
India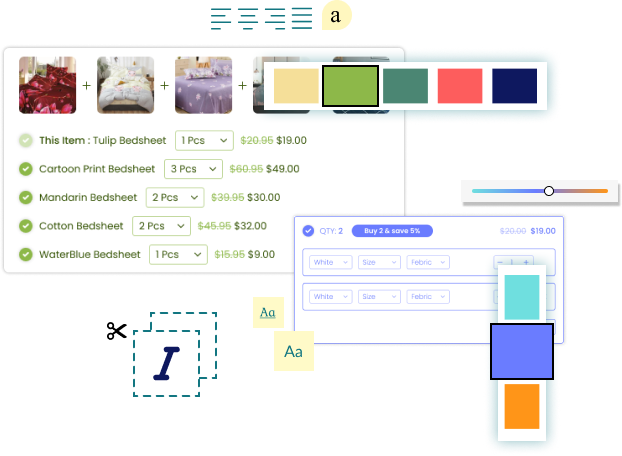 CUSTOMIZE ON YOUR OWN
Make changes according to your most suitable style
You can easily add and customize the product page using this bundle quantity breaks app.
By customizing your store, you can get high-quality sales and give multiple offers and discounts to increase your store revenue.
GET STARTED